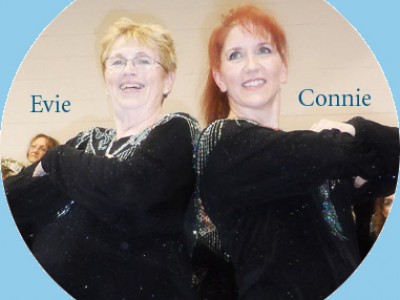 Evie Caldwell
Our long time Sweet Adeline director has had a life filled with music. She has a Bachelor of Music Education with a double major in piano and voice and a Master of Music with a major in pipe organ from the University of Nebraska Lincoln. She has taught various combinations of vocal and instrumental music from grades 5 through 12. She is very proud to have had three groups selected to perform at the Nebraska State Music Educators annual convention: an auditioned 5/6 choir McCook Central Connection, the Twin Valley high school band, and the Republican Valley boys barbershop quartet, "The Four Horsemen". She took a buy-out option from McCook Public Schools 3 years ago and then accepted a position in the music department of McCook Community College, where she continues to teach.
She is the organist and bell choir director at the McCook Methodist Church, plays flute and piccolo in the Oberlin Concert Band and in the Maverick Band, directs the McCook Area Community Choir, is active in Southwest Community Theater musical productions and sings tenor in a Sweet Adeline quartet "Tonal Chaos". She is a certified music judge for district music contests in Nebraska and Iowa. (Who knows why anyone would hire a judge from southwest Nebraska to go all the way to Iowa?)
She is also an avid baseball fan -Cardinals and Rockies, and a hockey fan-Colorado Avalanche, and finds time to go to as many games as possible.
She has 2 children, Carrie (husband Ron) in Omaha NE and Chad (wife Stormie) in Mead CO, 4 grandsons; Reilly Rheece, Rhett Lyon and Nathaniel Caldwell. She TRIES to stay current with all their activities attending as many as possible.
Everyone's heard "A body in motion stays in motion and a body in rest stays in rest." It is obvious that she plans to keep in motion!!
Connie Witt
My interest in music started at around the ripe old age of 6. My mother noticed that I hummed and sang a lot around the house as a kid. So my first singing group was the Cherub Choir at our church. I don't remember being a "Cherub" but my mother does and that's all that counts.
My interest in music only grew over the years. I was very active in the Grade School, Junior High and High School Bands. I was a Trumpet player and not too shabby at it. I was in every ensemble I could get into. Concert Band, Marching Band, Jazz Band, Pep Band and Brass Ensembles. Of course I had to practice a lot and my Mother could only take so much of it in the house so she would encourage me to "take it outside" to entertain the farm animals. So I was accommodating to save Mom's sanity and the barnyard got a free show.
Now...vocally my interests were peeked again when I was a Junior in high school. I had an open time frame in my class schedule and it needed to be filled. The only thing that interested me was choir. I had a wonderful vocal music teacher who saw potential in a very shy student...Yes, I was very shy. She managed to get me to sing harmony as an Alto. I was hooked from then on. Once again I was involved in every vocal ensemble I could get into.  As a Senior, she asked me to try out for the NMEA, Nebraska Music Educators Association. I was reluctant but she believed in me and really helped prepare me for the audition. 4,000 students state wide auditioned for this special honor that year and only 400 were chosen. Fortunately, I was blessed to have made it into this fabulous choir and had an experience I will never forget.
I did do some singing at weddings and funerals after high school but it wasn't enough. I was introduced to Sweet Adeline's by my former boss.  Once she got me to a rehearsal I was hooked. I was bitten by the Sweet Adeline bug and I have been infected ever since. I joined Sweet Adeline's in 1997. I started out singing as a Baritone and then eventually moved to Lead. I became a section leader as well as worked on choreography/showmanship team. In 2004, I was asked to be an Assistant Director for the Nebraska Pride Chorus. Then in 2012, our current Director, Evie Caldwell asked if I would consider being a Co-Director with her. Needless to say I was flabbergasted and at the same time very honored to have been asked. (and YES I CRIED). She has been a terrific Mentor for this art form and I am very grateful for her everyday.
I have had the privilege of being a part of a few quartets in the years I have been in Sweet Adeline's. All of which have been fun and a great learning experience. Currently, I sing Lead in Tonal Chaos. We have a lot of fun and enjoy entertaining and making beautiful music together.
I currently work for the Good Samaritan Society at Saint John's Center in Kearney,NE as an LPN and have worked for the society for 27 years. 20 of those years have been with Kearney. The other 7 were at the C. A. Mues Good Samaritan Society in Arapahoe, NE. My home town.
My family, of course, have been my biggest supporters. I have a wonderful husband. Jeff who by the way worships the quick sand I walk on.  I am blessed to have 2 beautiful sons, Bleys 9 years old and Barret 5 years old. I can't forget to mention my Grandparents ( God rest their souls) they, too were my biggest fans and supported my musical talents for as long as I can remember.  I miss them dearly but I know they are still with me in song.
This Sweet Adeline organization has been such a wonderful part of my life. Not only is it a happy and healthy hobby to have, it has created friendships and sisterhoods from all over the world. It helps to build confidences in oneself that you may not know you have and  I feel very privileged to be a part of such a fabulous group of women. MUSIC IS ALWAYS GOOD FOR THE SOUL!!!